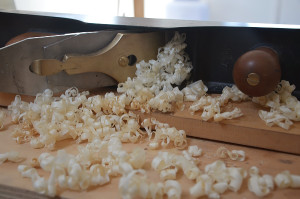 During the 17th Century, English viols were renowned throughout Europe for their sound quality, beautiful proportions and superb craftsmanship.
The unique English tradition of bending wood for the fronts or belly of the viol creates a responsive, flexible, complex and pure sound. This late 16th and 17th century technique is practised by Jane Julier. However, this pratice of constucting fronts was also used by French viol maker Michel Colichon.
From the selection of the wood to the attention to detail in setting up the viol, Jane works on each viol with passion and commitment. Her Art School training has given her an eye for style and her musical background an ear for sound.
Jane communicates with each musician who has commissioned an instrument from her, discussing their own thoughts and ideas of what they desire in the feel and the sound of their instrument. Each viol is unique but recognisable as a Jane Julier and only a limited number are made each year.
Jane Julier has gained a worldwide reputation. Her viols can be heard on disc, in broadcasts and in live concerts. International Viol Consorts as well as soloists own Jane Julier viols.
Here you can see a series of images showing the bending and construction of the front of the viol.